Greg VELU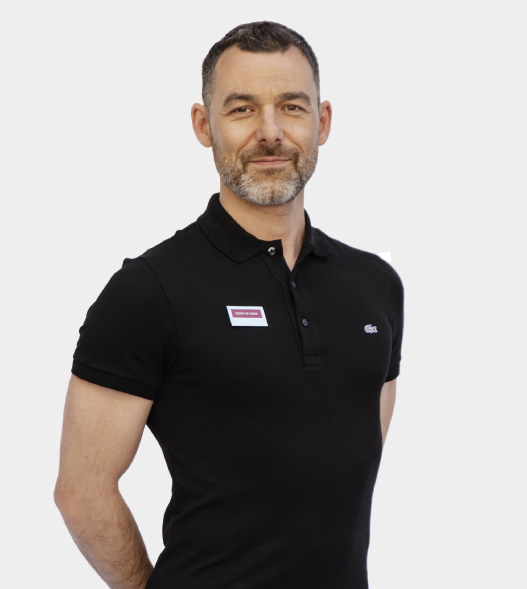 Specialties
Rugby, sports described by the French as « Sliding Sports »
43 years old, nationally certified, coach since 2000.
Bio
Greg turned to sports education after his professional sports career was cut short by a serious knee injury.
After ten years as Personal Trainer in France he moved to the United States, where he worked for eight years in a Training Performance Center, which included three seasons working with the NFL team the Miami Dolphins.
Back in France Front de Seine represented the next challenge, where he could share with their members his values and vision of sport.
What he particularly appreciates is the variety of clients, who all bring their own personal motivation and objectives, whether it be for sports performance or just general well-being.
Quote : « That's what is so enriching about being sports coach ; the need to adapt to each individual, to each situation. »
Welcome to Front de Seine.
Thank you for your enquiry and for your interest in the club.
The club will open its doors again on August 29th with new and rethought sport experiences.
Until then, take part in the trainings offered by the club, every day on our pages
Facebook
and
Instagram
.
From August 10th: it will be possible to take advantage of an exclusive pre-registration offer at a preferential rate until August 29th.
We will contact you soon to answer all your questions.
We wish you a very nice summer.
Front de seine
01 45 75 35 37
#wewillshineagain
44 rue Emeriau,
75015 Paris
01 45 75 35 37 client@frontdeseine.net
Located in the heart of the 15th arrondissement of Paris, Front de Seine welcomes you every day from 6:45 am to 11:15 pm from Monday to Thursday, from 6:45 am to 10:15 pm on Fridays and from 8:30 am to 7:30 pm on weekends.
Métro Dupleix
Métro Charles Michels
| | |
| --- | --- |
| Monday — Thursday | 6h45 — 23h15 |
| Friday | 6h45 — 22h15 |
| Saturday — Sunday | 8h30 — 19h30 |